GZ Motorsports Customer's Race Cars
Garret Albright's 1st Gen Camaro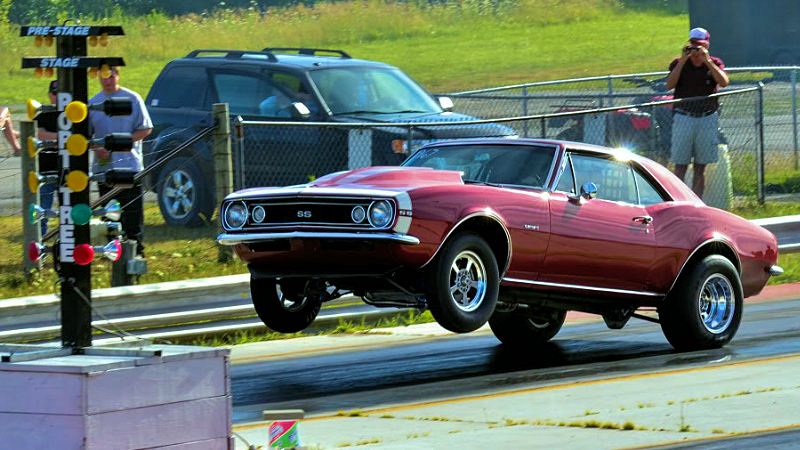 Garret Albright's AKA "40Coupe" 67 Camaro is not only a head turner, but the little rat in it certainly roars! 2 bolt main 468 Big Block Chevy with GZ VP104 Vacuum Pump, AFR Heads, Bullet Roller Cam and 13:1 compression runs 5.777@117.29 with a wheels in the air pulling a hard charging 1.25 60'.
A very impressive ET for a 468 no doubt, but Garrett didn't just bolt this thing together and run those numbers. He's been working with this combo for several years, proving there's always a little more you can get out of them if you just keep working on it.
Congrat's on your new personal best Garret!
Amjed Annabi - Twin Turbo LSX Corvette
Amjed Annabi from New Jersey has an awesome late model Vette with twin turbos and a GZ Super Pro VP104 Pump Kit.
On this install the Super Pro Pump requires an aftermarket radiator reservoir (Canton has one). The Super Pro kit fits just fine in the F body (Pontiac and Camaro) as well as the Cadillac and Truck body style without any additions. The Corvette is a tight install, but as shown it does indeed fit.

Your pump was a god send. While the car was on the dino being tuned after installing the twin turbos on my 2004 corvette with a cast iron 408 block, it was leaking oil from every gasket possible. I drove the car around for about 2 weeks and couldn't handle the oil smoke coming out from under my hood and not to mention the smell of oil.
After a few conversations with you I ended up purchasing your oil pump set up with the catch can. WELL LET ME TELL YOU NIGHT AND DAY DIFFERENCE!!!!!! The car is a joy to drive no more smoke , oil leaks, oil smell whatsoever my wife enjoys the car as well now since we installed your pump. If I lost the bet and your pump didn't fix the pressure issues caused by the turbos I would be doing the cooking, cleaning, laundry and picking up my daughter from school for a year. needless to say I won.
Your set up is great and I would recommend it to anyone who wants serious horsepower out of there car. Best investment I made. If anyone has any questions about installing this set up on there car I would be more than happy to talk to them.
P.S. screw top on the oil filler set up would be like inventing the wheel......"
Amjed Annabi
New Jersey
Miscellaneous Customer Rides
We've received a few customer photos that we want to share, check these neat cars (and trucks) out!
Mike Janis - NHRA Pro Mod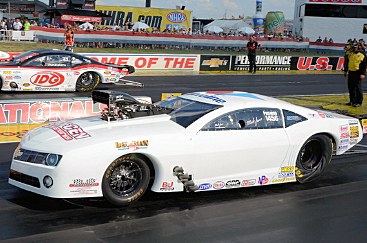 Two Time IHRA Pro Modified World Champion, and most recently, the NHRA 2013 US Nationals Pro Mod Winner, Mike Janis uses a GZMotorsports Super Pro Vacuum pump kit on his blown alky burning Pro Mod.

We've tried several other vacuum pumps over the years, we even put two of another very well known brand on at the same time, but none compare to the GZ Motorsports Super Pro pump."
Janis' team discovered the new pump can handle the crankcase blowby generated by his Pro Mod during dyno testing and will be using the New GZ Motorsports VP104 Super Pro Pump during the 2010 season.
Sean Thomas 78 Malibu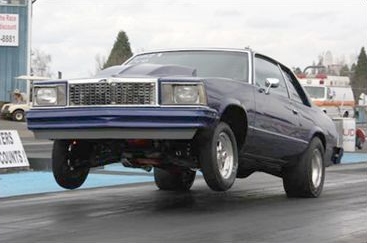 Greg, Here's a couple pictures of my 1978 Malibu.
The car has a 454 with low tension oil rings for maximum results using your pro pump. I got the car together and made it to Woodburn Dragstrip. With the help of your pro pump we ran a best of 10.11 @ 132 and I have no doubt there is more in the combination.
As always the pump runs flawlessly, keeps the motor from leaking oil, and pulls vacuum at idle all the way through the traps."
Sean Thomas
Grants Pass, OR
Chris Darmanjian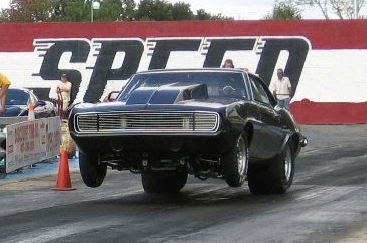 Your pump believe it or not pulls about 12 inches of vacuum. I've always been lucky with that pump... I talked to you in the past about an upgrade but we both agreed that I really didn't need to.
My ride is just an old school back half ladder bar, nothing fancy but works well. If you think my car is good enough for your web site i would be honored to have it on there.
Driver / Owner: Chris Darmanjian
James Day

The vacuum pump definitely made a difference. The car ran a 10.295@128.75 mph without the GZ vacuum pump active and it went a 10.149@131.2 with the belt on and pulling 10" at 6500rpm.
We run a stock style piston tight piston/ring set up, but it sure liked the new vacuum pump.
The motor has over 568 passes after this past weekend.I'm glad we got her all lined out. My new engine is going to love the pump as it's being built quite loose.
Thanks again for all your help.
James Day
George Carey NMCA X/S #4747

After fighting my combination, along with its aggressive oil leaks, we decided to go with a vacuum pump from GZ Motorsports. Thus far we have seemed to eliminate the problem along with picking up .500 on motor alone. Thanks for all of your help, seems to be the best unit for the money out there!
George Carey
Brian Sutton
Brian Sutton competes in the MAKO Real Street Class. He's using our smallest VP101 pump and the new UVPM mounting system on his Big Block Chevy.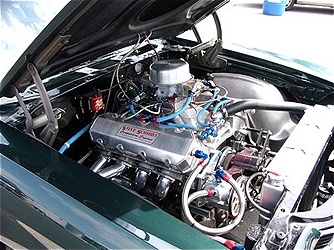 I like the new GZ pump a lot better than my old Aerospace pump. It pulls so much more vacuum that I have to turn the relief valve most of the way up!
Brian Sutton
Marc Schankweiler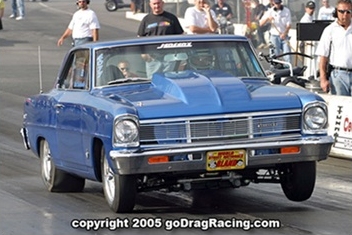 On the chassis dyno, running motor only we picked up 23 horsepower at the rear wheels with only 7 inches of vacuum. The car went from 599 hp to 622 hp. A considerable jump for just bolting on one of your Pro 30cfm pumps!
Marc Schankweiler
Shannon McGovern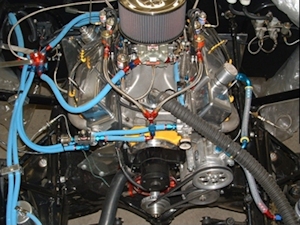 Very sweet pump! We have 400ci small block chevy with pro race fogger and plate systems. We spray 350hp shot alltogether. 800hp at rear wheels with sportsman pump. Awesome customer service... GZ Motorsports knows there stuff. I just told them what I wanted to do and was set up right the first time!
Shannon McGovern
Andy Frost AKA "RedVictor" and The Worlds Fastest Vauxhall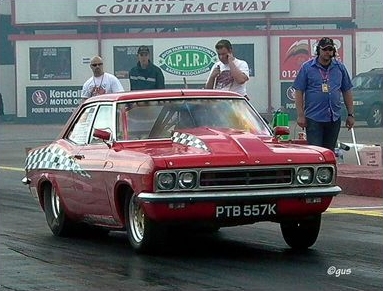 Andy Frost - Owner of Red Victor 3 purchased a VP104 and did some testing on the dyno. Andy found his VP104 installation was worth 24hp N/A and helped level out the torque curve.
Andy's car is a 1972 Vauxhall VX4/90FD, 600ci BB Chevy, 2 Speed Powerglide, 93 octane pump gas, MT sportsman pros and mufflers. 2004 best 8.39@170.

The intake manifold is dry as a bone! It used to be wet with oil after a few runs due to big ring gaps, big cylinders, clearance of pistons and tons of nitrous..."
Naturally Aspirated
Dyno Test Results
Without Vacuum Pump
With Vacuum Pump
762ft lb@5100
772ft lb@5100
865hp@6700
890hp@ 6800
Joe Sherman, Joe Sherman Racing Engines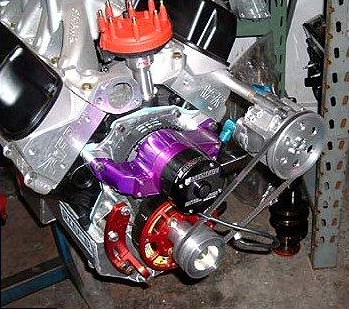 I am really impressed with the GZMS VP101 Sportsman Vacuum pump and kit. We installed it on a 347 cubic inch Small Block Ford build up we did for Ford Muscle Car Magazine.
When we dyno'd the motor it made 702 hp without the vacuum pump and 735 hp with the pump. That's a 33 hp gain with just the pump. We also noticed an increase in the rpm at which peak horse power was made."
Patrick A. McFadden, Owner of SHIFNOID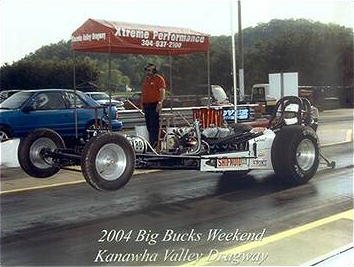 Here it is!!! This is a 60 over 350 SBC motor with SRP flat top pistons, 64cc Motown 220 heads,.640-.660 lift crane solid flat tappet cam and Hilborn injection on gas.
I broke this motor in without the GZMS VP102 Sportsman vacuum pump. The time ticket enclosed shows a 6.47 at 109mph 1/8 mile without the pump. With the vacuum pump the other time ticket shows a 6.19 at 114mph 1/8 mile. About 3 tenths and 5mph faster. I run this FED in all high gear. It has a powerglide with a trans brake that will lock in high or low.
I am very happy with my GZ Motorsports Sportsman Vacuum pump and am purchasing a complete Sportsman Vacuum Pump Kit for my Blown SBC in a 55 Chevrolet that I both drag race and drive on the Street (occasionally)"
Patrick A. McFadden
Owner of SHIFNOID
John Heard's '71 Nova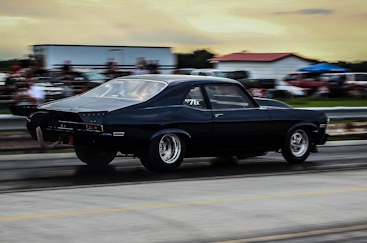 Greg thanks for all the help getting my Vacuum Pump setup. We finally started getting some hits on the car and have got her running in the 4.80's now and working on improving that soon. We're pulling around 20" of vacuum with your VP104 at the stripe and the pump has been working flawlessly!"
John Heard
Beyond Engineering
Hobart Taylor's Nova
This nice little Nova runs a 426SBC 60 over 400, 3.875 stroke, 6" rod on alcohol.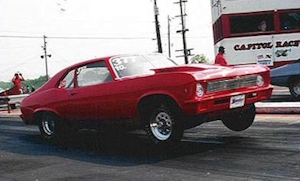 Greg, Not too many 60 + 400's out there with 900 laps on them. It has to be the pump!
See ya, Taylor
Joe Stiles's '71 Camaro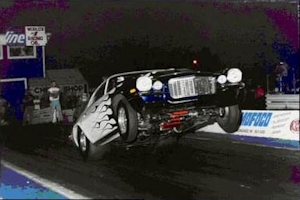 Thanks GZMS! After two seasons, the VP101 Sportsman Vacuum Pump is still working great. Will maintain 12" during burn-out.
Update...
Hi, Just wanted to give you an update on Joe's car. It's best ET is now 7.94 @ 172mph (10/10/04). The pump is still working great into it's 4th year.
Kelly Stiles
Ed Dobias's '79 Camaro NMCA Hot Street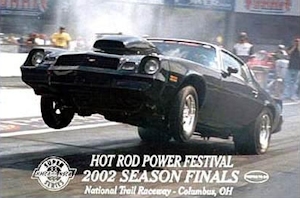 I liked the idea of having a rebuildable pump without having to run an oil separator between the V/C and the pump. Have about 150 passes and still making 16 inches of vac.
Ed Dobias: Owner/Driver
Edgar Negron's 347 SBF Mustang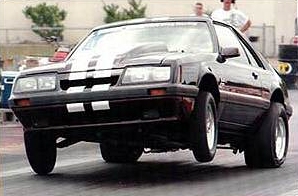 Hi there, Greg! I installed the GZMS VP103 (Pro) Vacuum pump on my 347 Small Block Ford in my Mustang. Well, I took my car to the dyno, and I told the guy that the only change was a vacuum pump, so we looked up the last dyno and compared it with the new pull.
The old dyno pull was 342 hp at the wheels. The new dyno pull off the trailer was 383 hp corrected. Then we gave it a bit more fuel and dyno pull netted 391 hp.
That is almost 50 hp gain with just the vacuum pump...
I disconnected it and it was 345 hp, hooked it up again and it was 391 hp again. Then we did a dyno pull with nitrous, a 225 shot, resulting in 614 hp and 559 ft lbs in 1000 rpm increments from 5250 to 5800 sound with nitrous.
Pretty good for a 347 CI Small Block Ford!
Thanks again, Edgar Negron
Courtney Paulos's '86 Omni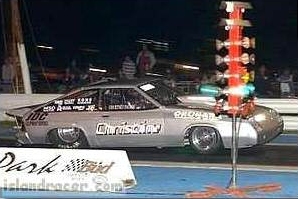 Greg, Since I put your VP 103 Pro Pump I have gained, I believe, 3 mph more. I was running 8.60s 8.50s. Now the car runs 8.40s. I recommend this pump to any racer. The GZ Motorsports Vacuum Pump System is money well spent.
Aloha, Courtney
Bruce Akaji's '65 VW Bug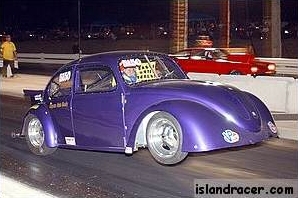 Greg, Your VP 101 Sportsman pump gained a mile per hour and a tenth elapsed time. I used to run 10 teens, now I run 10 0's in my tube chassis 65 VW bug. 2800 cc Autocraft motor, naturally aspirated.
Bruce