GZ Motorsports Company History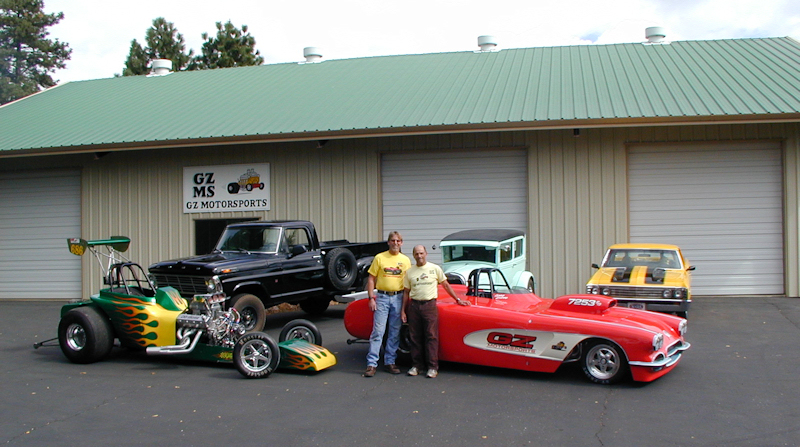 GZ Motorsports Original Shop in Volcano, California
GZ Motorsports was founded in 1985 by Greg Zucco after trying to put an alternator on his race car and the following frustration at trying to buy a set of pulleys and brackets that would all work together. Greg took that frustration and turned it into creative energy, solving the problem with a complete combination that worked together. That work led to the development GZ Motorsports and the initial line of Alternator and bracket kits, solving this common problem for the racer.
Later with the introduction of mufflers in the racing classes in California, the need developed to replace the now non-functional pan-evac systems which were routed from the valve cover to header collectors. Racers initially tried OEM style pumps, which worked for a limited time but couldn't handle oil well. Once again GZ Motorsports stepped in and solved the problem with our Vacuum Pump designed for racing use. In later years, large hp gains were also found utilizing vacuum in the crankcase, which among other numerous benefits, promotes better ring seal making significant horsepower gains with our higher capacity vacuum pumps. Work in that area still continues and has lead to our latest creations, the VP104 Super Pro Vacuum Pump and the VP102 Sportsman Vacuum Pump, both of which utilize our exclusive die castings, materials and design improvements.
The above picture is the GZ Motorsports Shop and a few of our shop cars. The tall guy in the photo is Bill Huntington, he joined the company in 2010 and subsequently purchased the company from Greg in 2015. Shortly after, GZ Motorsports was relocated to Glencoe, California. Like Greg, Bill is also a racer who competes in Bracket Classes with his Big Block Chevy powered Altered and races the Shop's 58' Corvette in Super/Gas at California tracks. Bill and his wife Carolyn now operate the expanding business with a dedication to excellence and product innovation.
Currently GZ Motorsports researches, develops and markets high-performance auto accessories, including: Bolt-On Alternator Single-Wire Kits, Racing Vacuum Pumps, Crankshaft Pulleys, Mandrels, and Mandrel Pulleys, Vacuum Pump Pulleys Breathers, Oil/Air Separator Tanks, Hoses, Relief Valves and Fittings. We also work closely with engine builders and racers on new solutions to problems and finding that extra horsepower that is hidden in every engine.