The Latest in Racing Vacuum Pump Technology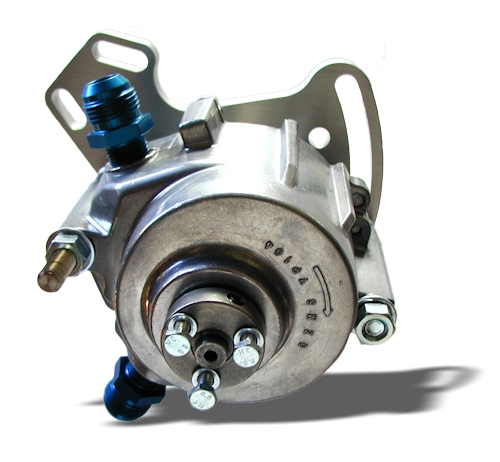 VP104 Super Pro Vacuum Pump
While most vacuum pumps may appear to work the same, the fact is there are major differences on the inside, where it counts. Our recently redesigned Super Pro Racing Vacuum Pump is a purpose built pump specifically designed for the hot, wet and oily environment found in race car crankcase vapors without the need for frequent cleaning like other brands.
GZ Vacuum Pumps generate higher vacuum and more air flow...
An all new die casting, only available from GZ Motorsports, forms the core of the new pump with much closer tolerances than previous models enhancing it's air flow potential. Closer tolerances in the new die casting allow the Pro Pump to generate 26% more air flow than similar sized competitors pumps! Updates also include improved and beefed up port locations, totally rebuildable bearing sections and long life wipers.
No Cleaning Needed
As with all GZ Vacuum Pumps, Rulon Wipers are still used exclusively as it's the best material to use for tough hot and oily applications that we've found. In fact, this pump can suck in and spit out anything but metal without sticking! In fact recent durability testing we've conducted with our new extended life wipers proved that this pump can run 500 hours at 3500 RPM with a light oil mist and still maintain full vacuum! Compare that service life with any other brand pump and you'll find nothing else comes close to lasting that long.
With GZ Motorsports Vacuum Pumps there is no need to spray brake cleaner into the pump between rounds to keep the internal vanes from sticking, a necessity with all other brands of pumps because they aren't designed to run in an oily atmosphere. Unlike the others, GZ pumps use a proven vane design that can't stick!
The GZ Pump's carbon fiber vanes and Rulon wipers seal better and last longer than anything else available which translates to less overall operating cost for your race car. Another feature you'll like is that they cost less than others, that's right you get more pump for less money...
Yes, there is a difference in Vacuum Pump Design!
From the outside most Racing Vacuum Pumps look very similar, they all have a two hose connections, and a pulley on the front. But that's where the similarity ends. There are two basic vacuum pump designs available for racing, the sliding vane design used by our competitors, and the crankshaft design that uses floating vanes used exclusively by GZ Motorsports. Watch this video to see inside of the pumps to learn the difference.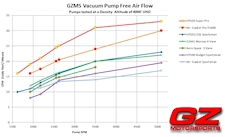 *Dare to Compare
*
Click the chart
and take a look at the air flow test results for our pumps against several of the leading competitors...
What our customers think


We've tried several other vacuum pumps over the years, we even put two of another very well known brand on at the same time, but none compare to the GZ Motorsports Super Pro pump.
Mike Janis
2 Time IHRA Pro Modified World Champion


I am really impressed with the GZMS VP101 Sportsman Vacuum pump and kit. We installed it on a 347 cubic inch Small Block Ford build up we did for Ford Muscle Car Magazine. When we dyno'd the motor it made 702 hp without the vacuum pump and 735 hp with the pump. That's a 33 hp gain with just the pump. We also noticed an increase in the rpm at which peak horse power was made.
Joe Sherman
Joe Sherman Racing Engines


The intake manifold is dry as a bone! It used to be wet with oil after a few runs due to big ring gaps,big cylinders,clearance of pistons and tons of nitrous...
Andy Frost
Red Victor Racing


Your set up is great and I would recommend it to anyone who wants serious horsepower out of there car. Best investment I made. If anyone has any questions about installing this set up on there car I would be more than happy to talk to them.
Amjed Annabi
New Jersey
Read more customer testimonials and check out their cars...